Assessments for Reception 2021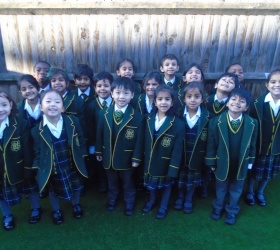 Assessments for places in our Reception Class, September 2021, will be held in October 2020. Due to following Government Guidelines, it is currently not possible for prospective parents to tour the school as only children and staff are being allowed to enter the building.
If you are interested in booking your child for an assessment for Reception Entry for 2021 please contact:
Louise Wigodsky (Registrar)
020 8958 6979 or email admissions@hollandhouse.org.uk
A Registration form will be sent to all interested parents. There is a non-refundable £100 Registration fee. All children will be assessed and then the successful children will be invited back for an interview with the Headmistress. Offers are made before the end of the Autumn Term.
ASSESSMENTS FOR RECEPTION 2021 ENTRY ARE NOW FULLY BOOKED. PLEASE FILL OUT THE REGISTRATION FORM AND EMAIL IT TO ADMISSIONS IF YOU ARE STILL INTERESTED FOR YOUR CHILD TO BE ASSESSED. THEY WILL BE PUT ONTO OUR WAITING LIST. MANY THANKS